Vinyl Stickers
Want to decorate your windows with great graphics and text? We have all the solutions available here at large banner printing to provide you with amazing results. You can display any graphic or text on our Vinyl stickers. You can promote your product, put an advertisement on them, can display a marketing or a social message on them, can display any text or anything else you want to display on them. Also, our Vinyl stickers have a thickness of 240gsm and you can use them in long run. They are waterproof and whenever you find dust, you can easily clean them. Also they are UV resistant and fade resistant. The front side of them is the printed portion and the back side of them is the sticky part. You can paste Vinyl decals with the help of glue. Also we have a category of One-way vision stickers. With one-way vision stickers, from outside customers can see graphics and from inside you can see clearly. They are most suitable for offices, retail outlets and back screens of cars.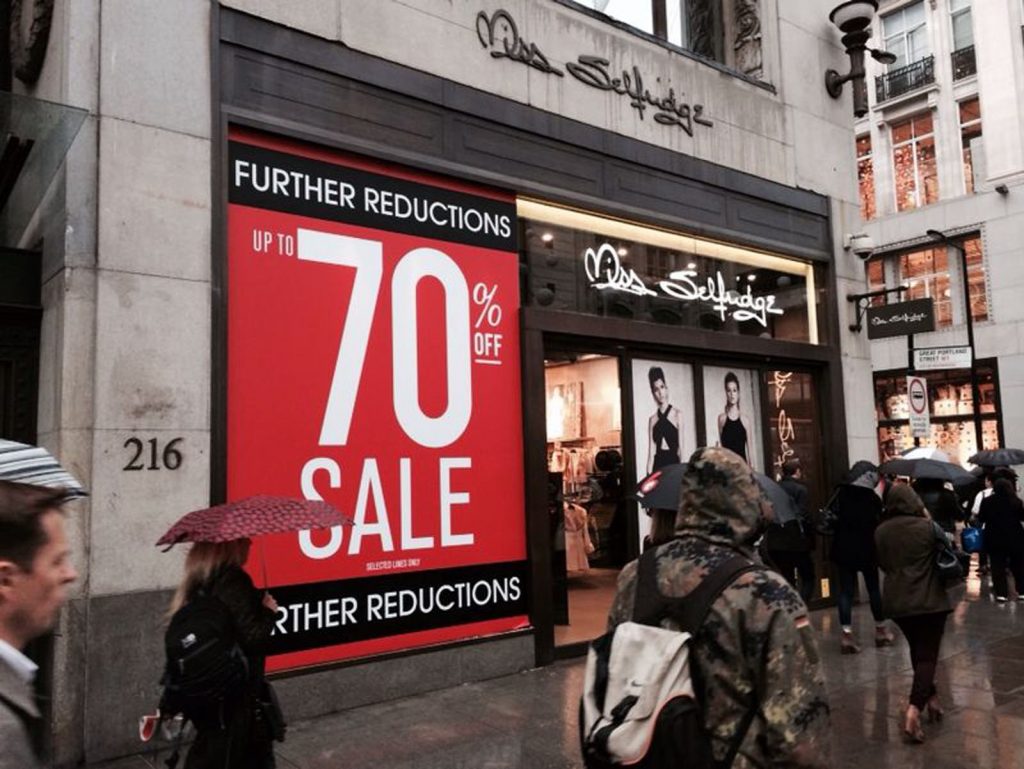 Customer Support
We have a highly reliable customer support. If you are not sure about your printing needs, you can always reach out to us and our customer support team will guide you with an exact solution for your designing and printing needs. They have a lot of years experience in facilitating a number of clients on a daily basis. You need to tell us with your requirements and within no time, we will provide you with an exact price quote. Our customer support has the complete product knowledge, pricing details and technical understanding about printing needs. We are more than happy, if you ask us any questions about our products or services. It helps us understand your needs and meanwhile, we can provide you with an exact price quote. Our customer support can be reached out at the email: info@largebannerprinting.com or you can also connect with us through a live chat window on our website.
Also our post-sales customer support is highly efficient. If you have any questions or inquiries about your printed material or status of your shipment, you can always reach to us and we ensure to assist you in every possible manner. Our post-sales customer support provides you with the pictures of printed materials, once printing is completed over. Also they send you the tracking number associated to your shipment through an email notification.
All you need to do is to provide us with your artwork details and we furnish an exact design for you within 30 minutes only. Also we provide unlimited redesigning until you are fully satisfied with the final design. You can check out the pictures of already designed and printed material on 'Our Work' page: https://largebannerprinting.com/our-work/ on our website. By reviewing these, you can check out the quality of our designing and printing services.
How to Install Apply Vinyl Sticker Instructions
The Vinyl Stickers are very easy to install, there are lots of online resources available on youtube for you to watch to be 100% certain.
What you will need:
Wiper
Washing Liquid (Washing liquid water mix)
Stanley Knife
Ruler
Step 1
Firstly make sure the surface on which you are going to stick the stickers on to is clean, and has no dust particles. Any dust particles will result in small bumps on the sticker finish, so please ensure the surface is spotless.
Step 2
Then spray the glass with the washing liquid, you can be generous with the spray, make sure you have water on all parts of the glass on which you want to paste the sticker.
Step 3
Peel the back of the sticker and spray the washing liquid on the reverse non-printed side of the sticker. Again be generous and make sure you have water on all parts of the reverse side of the sticker. Dont worry, this will not damage or effect the printed sticker.
A good way would be to peel gradually and spray as you go along together with step 4.
Step 4
Apply the sticker to the surface, you should be able to maneuver the sticker due to the washing liquid, and adjust exactly where you want to place the sticker. Gradually work your way down and apply the sticker to the window.
Step 5
Using the wiper, working from left to right or top top bottom, squeeze the washing liquid out from between the sticker and the window. Dont worry about getting water on the sticker, as it will not effect the print as it is water proof. Make sure to remove any bubbles that may appear using the wiper.
And thats it! Leave for 24hrs, any remaining water will dry and the sticker will stick firmly to the glass.
Step 6
Finally once the sticker is firmly stuck to the glass, using the blade or Stanley knife and the ruler, cut around the edges to give it a perfect fit finish.
The results are pretty amazing, and a great advertising opportunity for attracting passing traffic.
If you have any questions, feel free to discuss with an online chat support agents, or feel free to give us a call.
Note: The stickers are applied to the outside of the glass.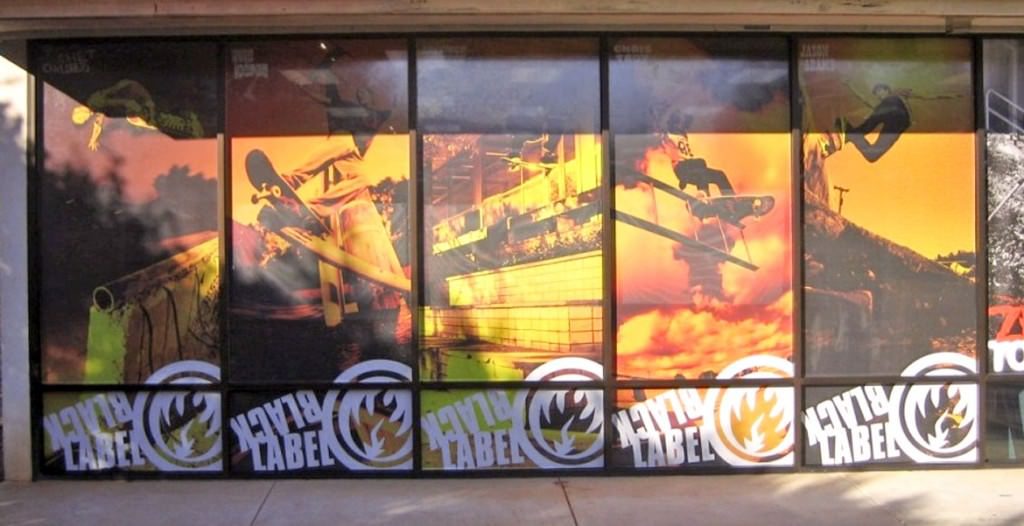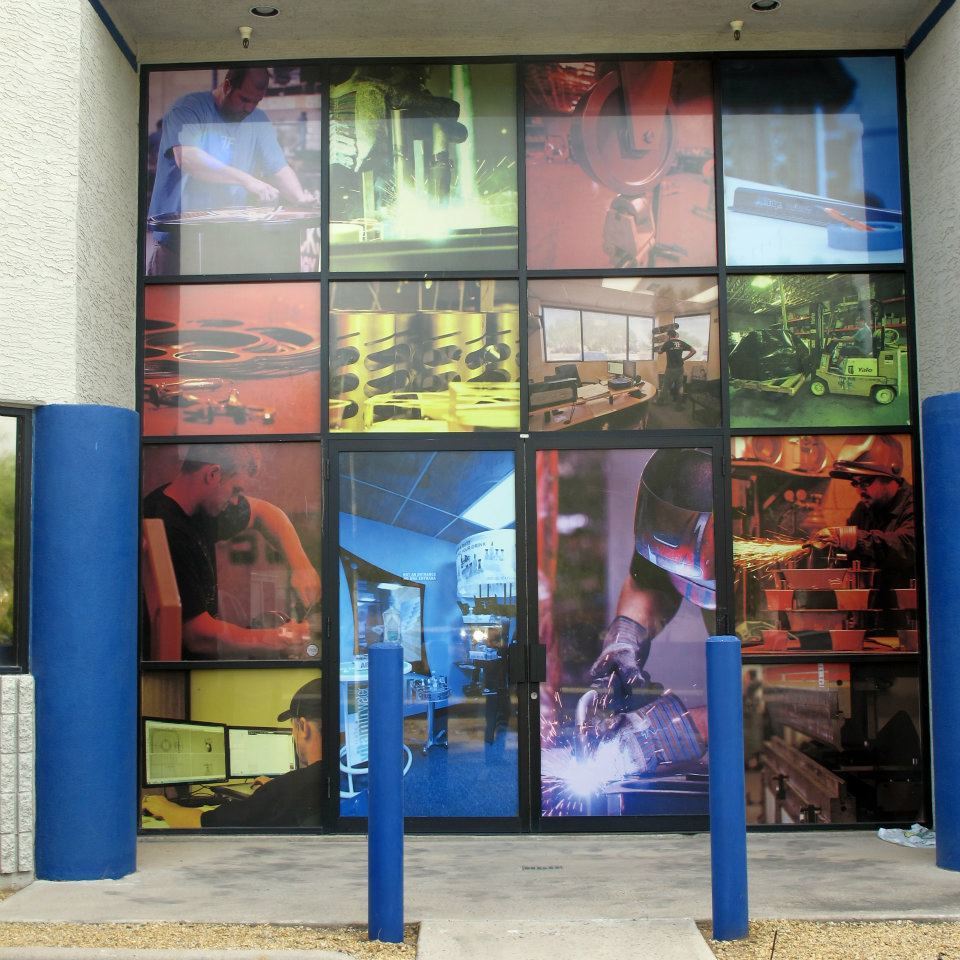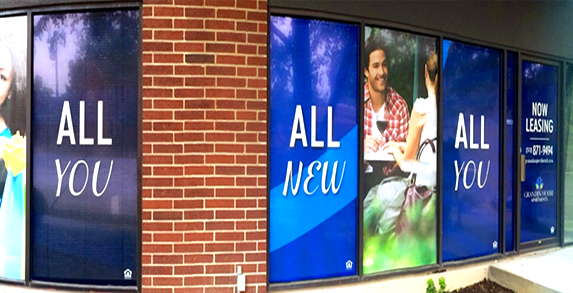 Large banner printing is providing free designing service to its clients. Our free designing service, gives us a edge over our competitors.